Do you want fuller, perfectly coiffed brows with high shine that can give you the celebrity arches you are seeking? Do you want these eyebrows to last several weeks? Then Brow Lamination may be for YOU. Brow Lamination takes your unruly or thinning brows and smooths them out while making them appear fuller by simply lifting the hairs vertically.
Brow Lamination, which originated in Russia, is used to hide small gaps and create fuller looking brows. While Brow Lamination is semi-permanent it is not as intensive as Microblading, which gives you a longer lasting look. There are no needles or dyes involved in the pain free Brow Lamination process.
Our licensed, professional Brow Expert uses a straightening solution which basically perms your brow hairs. Instead of curls you get straight, upward facing hairs through this chemical process that literally breaks down the bond of each eyebrow hair. This makes it easier for our experts to then form the hair into a new shape.
We brush up your eyebrows and shape them to achieve the desired look. We will take careful consideration of your face and eye shape as well as your desired look while shaping your brows.
A neutralizer lotion is then used to on your eyebrow hair to seal your brows in place. This will help the eyebrows stay in position for around to 6 to 8 weeks. The entire process takes about 1 hour to complete not including any optional add on services.
We also use a specific oil to nourish the eyebrows after the bonding process is complete. This helps to moisturize and condition, keeping the eyebrow area healthy. Aftercare is simple as well. You will be asked to take special care to not touch your eyebrows and keep your eyebrows dry and free of makeup, skin products, steam or sweat for the first 24 hours after the service. You can also use a specific oil or cream to keep your eyebrow area nourished and healthy.
We may also wax, tweeze and cut your eyebrow hairs as needed to make sure they are perfect. Many clients also incorporate an Eyebrow Tint, Lash Lift or Eyelash Extensions with their Brow Lamination to complete the look they are seeking.
Please let us know if you have any skin issues such as sensitive skin, eczema, or rosacea. Our House of Beauty licensed, professional Brow Expert is looking forward to helping you achieve your dream eyebrow goals! Call the Salon to Book your Brow Lamination Appointment TODAY (845) 987- 8396!
CHECK OUT OUR BEFORE AND AFTER BELOW: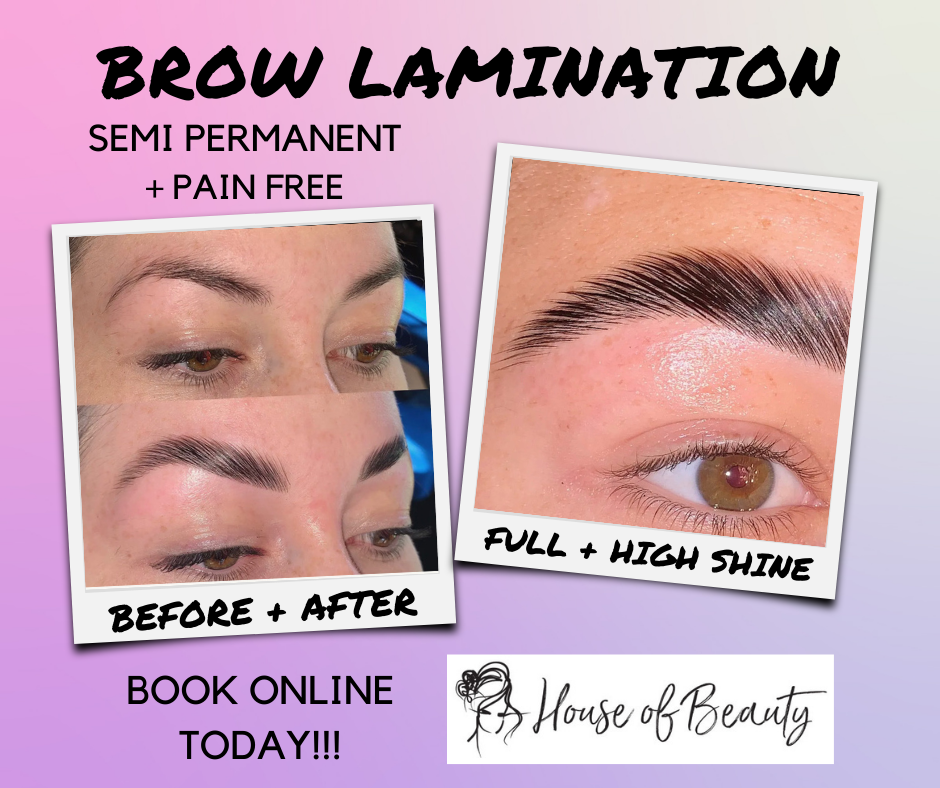 WHERE TO GET EYEBROW MICROBLADING IN WARWICK NY...
House of Beauty is now offering Brow Lamination in Warwick NY at our salon.  Book Online or Call the Salon to Book your Brow Lamination Appointment TODAY (845) 987- 8396!
#shopsmallbusiness #shoplocal #SupportSmallBusiness #browlamination #eyebrows #celebrityeyebrows