MENU OF SERVICES
Senior Stylists: Nicole
Prices may vary based on hair texture and length
HAIR CUTS/STYLE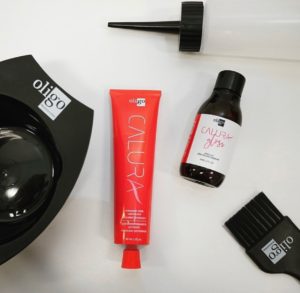 -Women's Cut: $48-$55
-Men's Cut: $25-$32
-Kid's Cut: $20-$30
-Teen Girls Cut $40-$50
-Updo starting at $65
-Curl Set: $10 add on
-Flat Iron: $10 add on
-Blowout & Style $33 and up
COLOR
–Base Color: $48-$69 | approx. 1 and 1/2 hours
Aka "root touch up".  Single process to cover grey or retouch an existing color.  It covers up to 2 or 3 inches of new growth and takes about 1 and 1/2 hours or less.
–Base and Ends: $65-$84 | approx. less than 2 hours
This single process color is root coverage with the addition of color on the ends as well.  If you want a rich solid color all over, this is the service for you.  Plan to be at salon for less than 2 hours.
–Partial Foil: $95-$120 | approx. 1 and 1/2 hours
Traditional foil color that creates dimension from the scalp.  This can be highlights, lowlights or both.  Partial foil services are appropriate for people who already have the dimensional highlight or lowlights they like and are just looking to freshen up.  It typically needs a gloss to finish and takes approximately 1.5 hours. You will need to return to the salon for a retouch in 6-10 weeks.
–Full Foil: $130-$150 | approx. 2 hours
Full foil is also a traditional from the scalp dimensional color.  You will need a full foil service if you are starting your journey to dimensional color.  If you are looking to go significantly darker or lighter or want any significant change in your dimensional look, this is what you will need.  It usually requires a gloss and takes 2 hours.  Typically people like to come back for maintenance in 6-10 weeks.
-Super Foil:  $185 | approx. 3 and 1/2 hours
If you want a drastic change in darkness or lightness.  You will need a Super Foil.  The majority of the hair is placed in foil to get maximum coverage.  This service requires a gloss and Olaplex is highly recommended to safeguard the integrity of the hair.  This service can take 3.5 hours and is worth every second! Consult with your stylist for a maintenance schedule that will keep you looking fresh.
–Balyage Partial: $90-$150 | approx. 1 and 1/2 hours – 3 hours
Balyage is hand painted blonding.  It is an organic look that typically has more saturation of lightness at the bottom and diffuses toward the top.  Balyage is a great option if you want a low maintenance color.  There is no hard line of regrowth because the lightness is not saturated at the root.  Plan on returning to the salon for your next session in 8-16 weeks.  A partial balyage is going to get you a soft to moderate change in lightness in your first visit, or if your just maintaining your previous balyage.  It always requires a gloss.
–Balyage Full: $120-$180 | approx. 2 and 1/2 hours – 5 hours
If you are looking to go from a "brownie" to a "blondie" or any kind of platinum, this is the service that will get you your desired look.  Olaplex is a must and a gloss will be required to perfect the color you have chosen.  Balyage is hand painted lightening service that gives you a soft root area.  There is no harsh regrowth line in between service.  Maintenance could be anywhere between 8-16 weeks.
*most lightening services REQUIRE a Gloss which is an additional $20.00
-Color Melt: $30 Add On Service , $80 Stand Alone Service
Color melting is recently trending on all the hair and fashion social media forums and red carpets. It is a process of glossing about 3 inches at the root only slightly darker than the rest of the hair.  It gives you a super natural, gorgeous finish! This is Nicole's new favorite service!  She highly recommends it to finish any blonding service.  It is also a great "in-between blonding services" service.  Or a perfect option for those who want to go darker.  It can be subtle or drastic!
EXTRAS
-Eyebrow Shaping $12
-Lip/Chin Wax $7
-Make-up Application $65-$100
-Eyebrow Tint $7 Add On, $20 by itself
-Add Lashes to Makeup $15
TREATMENTS
-Coppola Keratin Complex $200
-Perms starting at $85
-Gloss $30 with Service, $60 only Gloss Service
-Colormelt $40 with Service, $75 only Colormelt Service
EYELASH EXTENSIONS
-Full Set Lashes Classic $90/$110
-Two week Eyelash touch-up $60
-Three week Eyelash touch-up $75
-Lash Lift and Tint $85
-Full Set Hybrid/Volume $110/$130
-Two week Volume Eyelash touch-up $70
-Three week Volume Eyelash touch-up $85
-Brow Lamination with Henna $75
Click the Make an Appointment Button Below to Schedule Now!


Phone:
(845) 987- 8396
Tues 9-4, Wed 9-3,
Thurs 10-8, Fri 10-8, Sat 9-4
By Appointment Only:
313 RT 94S Warwick, NY
Follow Us On: